The islands of Hawaii are home to some of the best snorkeling in the world, which is most likely why you are planning to go there! With over 112 miles of coastline, Oahu attracts travelers who enjoy floating in the ocean, watching the marine life in the coral reefs with just a snorkel and a mask. Let's take a look at some of our picks for top snorkeling on Oahu.
Hawaii Snorkeling Tips
A tour we think you'll love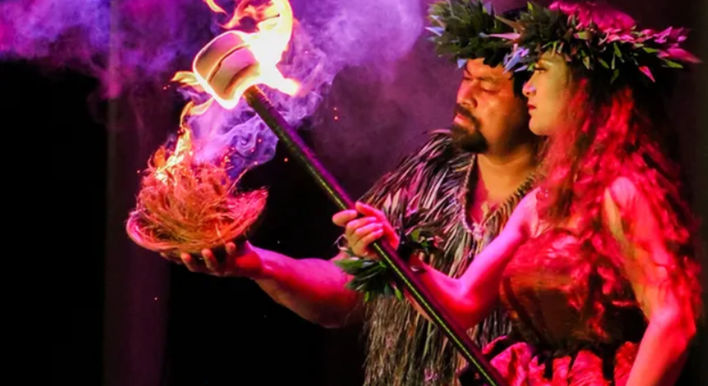 Ka Moana Luau
From $104
View tour
Only use reef-safe sunscreen. Sunscreens that contain oxybenzone and octanoates are harmful to the coral reef and are banned by Hawaii. Look for the reef-safe logo on the bottle.

Snorkels, masks, and fins are available for rent by the hour, day, or week at rental shops all over the island.

Be respectful of the marine environment. Don't touch the sea turtles or coral.

Don't feed the wildlife.

Consider taking a snorkeling tour. Local guides know the best beaches to explore and places to snorkel.
Hanauma Bay
One of the most popular snorkeling spots on Oahu, Hanauma Bay, is a protected nature preserve. In years past, this bay was visited by too many tourists causing damage to the sea life and the coral reef. Honolulu now limits the number of daily visitors. To enter the bay, you'll need a reservation. Book your spot on the Honolulu Department of Parks and Recreation website for a timed entrance to watch a mandatory nine-minute orientation video.
Snorkeling gear and life vests are available for rent at the concessions booth. We suggest leaving your rental car at the hotel as parking is extremely limited. Take public transportation on bus line 1 or book a snorkeling tour that includes transportation.
Let A Local Take You To The Best Snorkeling Spot
Avoid the hassle of driving and looking for parking by taking our snorkeling tours with a local guide. Sit back, relax, and leave the driving to us.
Our guides are local Hawaiians who know where to go for the best snorkeling. We'll even bring the snorkel gear, so you don't have to worry about packing your own or renting. You'll hear some great stories and see Oahu's top 16 locations along the way.
Call us or go online today to reserve your spot on an Aloha Circle Island Snorkeling tour.
Best Snorkeling For Sea Turtles In Oahu
Hands down, one of the best snorkeling spots for swimming with Hawaiian green sea turtles is Turtle Canyon. These shy, gentle creatures are frequently spotted floating on the top of the water looking like a giant rock.
Turtle Canyon can only be reached by boat. Several tour companies offer half-day boat tours from Kewalo Basin Boat Harbor. Most tours will include snorkeling gear, snacks, and a couple of drinks.
Your boat tour guide will share important snorkeling tips like:
Never touch the sea turtles. The Hawaiian green sea turtle is a threatened species and protected by federal law

Do not disturb or frighten the turtles. The ocean is their home, and while you are with them, you should always act in a respectful manner

Never attempt to feed them
What Is The Best Snorkeling In Oahu On The North Shore?
For many Oahu visitors, a trip to the island's famous North Shore conjures visions of 12-foot waves at Shark's Cove, Pipeline, and Waimea Bay. You'll see professional photographers lining the beach in winter to catch the perfect shot of a surfer riding a massive wave. However, there is more to love about the North Shore besides the massive waves.
A visit to the northern side of Oahu is like a trip back to old Hawaii. Take a scenic drive past tropical foliage, macadamia nut farms, and roadside stands. Explore the small town of Haleiwa and stop at the iconic Turtle Bay Resort for lunch.
Some of the best snorkeling spots in Oahu lie within the quiet, secluded coves on the North Shore:
Kuilima Cove
With its calm and shallow water, is one of the best spots for beginner snorkelers. The beach at Kuilima Cove is directly in front of the Turtle Bay Resort, but don't let that deter you. This is a public beach and is open to everyone. It's best to bring your snorkel gear with you as rentals are challenging to come by here.
Sunset Beach Park
The big waves of winter mellow out in summer, and Sunset Beach Park becomes a great snorkel spot. Explore the underwater world and spend a day on the wide sand beach. If your visit is in winter, consider taking our tours, where you can see the massive waves of Sunset Beach Park from the comfort of our tour bus.
Shark's Cove
Rated as a top 12 dive spot rated by Scuba Diving magazine, attracts plenty of fish with its rock pools, lava tubes, and coral and is an excellent snorkel spot.
Sans Souci Beach
Some of the best snorkeling in Oahu can be found within walking distance of downtown Waikiki. From the elegant plantation-style Moana Surfrider hotel, it's just a 20-minute walk south to Sans Souci Beach, also known as Kaimana Beach. The water here is calm, shallow, and free of strong currents.
In Oahu's off-season, it can feel like you have this vast stretch of beach to yourself. Head to the Waikiki side of Diamond Head to enjoy the snorkeling at Sans Souci and snap a great picture with the volcano as a backdrop.
Kahe Point Beach Park – Electric Beach
Kahe Point's location makes it one of the best snorkeling spots in Oahu for families. It's a short drive north of Ko Olina Beach's upscale family resorts like Disney's Aulani, and the Four Seasons. You won't need to show a room key to snorkel here, though, as it's a public beach.
Kahe Point is also called Electric Beach due to its location directly in front of the power plant. Don't let that deter you, though, as Electric Beach is perfectly safe. An underwater pipe warms the seawater and attracts a vast array of marine life. Tropical fish, turtles, and even Hawaii's state fish, the Humuhumunukunukuapuaʻa, can be spotted here.
Queens Beach
Queens Beach may not make many shortlists for spots on Oahu with abundant tropical fish, but it's a great spot that's close to Waikiki. It's a 10-minute walk south, next to the Waikiki Aquarium and the sea wall.
Head to this spot and explore the area directly next to the sea wall. Fish like to hide along the wall. You'll find a nice stretch of beach with a shallow lagoon that's perfect for young children.
Plan Your Underwater Adventure On Oahu
Don't miss out on some of the best snorkeling in Hawaii. Oahu is home for us, and we are passionate about sharing all this gathering place offers. Go online or call us today and let us be your guide. We'll show you some of Oahu's best snorkeling spots and more!
---