Oahu Hawaii, the gathering place, is the most popular of all the Hawaiian islands, and for good reasons. From its sun-kissed shoreline with stunning white sand beaches to endless miles of hiking trails, there are activities to please all travelers.
Backpackers camping in a tent at Kualoa or families who prefer a stay at a lively resort like the Hilton Hawaiian Village can all go home with dreams of the best tropical vacation ever. Whether you prefer to immerse yourself in Hawaiian culture, snorkel in the crystal blue water, watch the turtles on Lanikai Beach, or enjoy a sunset cocktail cruise, you can create long-lasting memories.
A tour we think you'll love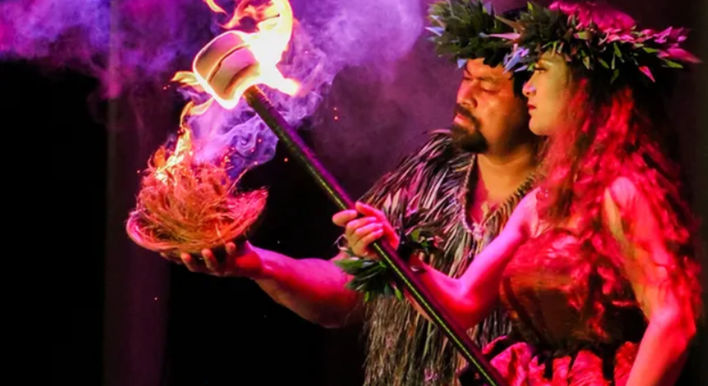 Ka Moana Luau
From $104
View tour
Let's take a look at our choices for the best places to visit in Oahu.
1) Polynesian Cultural Center
There is a good reason why the Polynesian Cultural Center (PCC) is one of the top attractions in Oahu. It's an immersive experience with village displays from such Polynesian islands as Tonga, Tahiti, Fiji, and Samoa. There is also live music, hula dancing, and food, making PCC one of the places to visit on Oahu for Polynesian culture.
Guests are encouraged to explore the villages and participate in the hands-on activities. You can shop for treasures at the Hukilau Marketplace and visit the Polynesian Football Hall of Fame.
The highlight of your day at PCC is the authentic Hawaiian luau. The entertainment starts with a ceremony where a pig that has been cooking in the ground for hours is removed, and the tender meat is prepared for the buffet meal. There are plenty of side dishes, including vegan options. Enjoy a show while you eat that includes live music and hula dancing.
2) Circle Island Tours In Oahu
Take a tour of the top places to visit in Oahu and discover a few hidden gems. Treat yourself to a Circle Island Tour with an entertaining local guide.
On the premium tour, the experienced team with Aloha Circle Island Tours will show you Oahu attractions like:
Diamond Head lookout

Halona Blowhole

Halona Beach Cove – The beach from Here to Eternity

Sandy Beach Park

Mokoli'i Island

Kahuku Farms

Dole Plantation

Byodo In Temple

Secret Beaches

Oahu's famous North Shore

Coffee & Macadamia Farms
Book your tour for the beginning of your Oahu visit. Spend the day with your local guide, visiting the top sites, so you know where you want to go back and spend more time.
For a memorable day of Oahu's iconic historical sites, take the Pearl Harbor – USS Arizona Memorial & Honolulu City Tour to see famous locations like:
Pearl Harbor Memorial

USS Arizona

USS Bowfin Submarine

King Kamehameha statue

Waikiki
Reserve your spot and see the best places to visit in Oahu!
3) Oahu's North Shore
What is there to see on Oahu's North Shore? You'll see a lot of what you expect to see in Hawaii, and then some.
The North Shore is home to the famous Banzai Pipeline, where world-class surfers come from October through March to surf the massive waves. If you are visiting Oahu at this time, be sure to spend some time watching the surfers from Ehukai or Sunset Beach.
Leaving Waikiki Beach and traveling to the North Shore, you'll pass by local farms, breathtaking scenery, and roadside stands. Head to the small town of Haleiwa for surf shops, boutiques, restaurants, and art galleries. Be sure to try the local delight, a frosty Hawaiian shave ice.
4) Oahu Helicopter Tour
Hawaii is known for its stunning scenery, so Oahu tours by helicopter are popular. Some of the picturesque sites you can see on a helicopter tour include:
Diamond Head

The spectacular Pacific Ocean

Honolulu skyline

The USS Arizona Memorial

World-famous Waikiki Beach

North Shore

Sacred Falls – Surrounded by rugged cliffs, the only way to see the falls is by air

The Waianae and Ko'olau Mountains
5) Pearl Harbor National Memorial
Every American should visit Pearl Harbor at least once. The tragic attack on Honolulu signaled the beginning of the US entry into World War II. The Pearl Harbor National Memorial is one of the best places to visit on Oahu for anyone who loves history.
There is no fee for entrance to the Pearl Harbor Visitors Center and Memorial, and no tickets are required. However, you will need timed tickets to take the short boat ride to the viewing deck over the sunken USS Arizona ship. Online tickets are issued by the US National Parks website, and they go quickly. If you have not been successful in getting advanced reservations, you can also try the same-day standby queue.
One of the best ways to visit this site is with our Pearl Harbor and Honolulu tour, where we provide the tickets and transportation for you.
Visit the Pearl Harbor Aviation Museum to see an impressive collection of historic aircraft, including planes that first rose up in defense of the attack on December 7, 1941.
The National Memorial Cemetery of the Pacific sits just outside of Honolulu in the Punchbowl Crater. Thousands of military men and women who served in World War II, the Korean War, and the Vietnam War are interred here.
6) Hanauma Bay
The Hanauma Bay Nature Preserve is a protected cove that attracts hordes of tropical fish, sea turtles, and unique marine life. If you are looking for one spot on Oahu to go snorkeling with the fish, this should be it.
At one time, the area was overrun with hundreds of tourists who were none too careful with the sand, the marine life, and the coral and caused great harm to the wildlife here. Great efforts have since been made to protect the bay and its residents.
One of the protective steps taken by this state park allows only 1400 visitors per day. You'll need to make reservations ahead of time and watch a 9-minute orientation video when you arrive. Make reservations online on the Honolulu Parks & Recreation website.
7) Diamond Head Crater
Most visitors to Waikiki Beach can say, "I saw Diamond Head." You should be one of the lucky ones who can also say, "I hiked Diamond Head Crater."
The trailhead starts at the parking lot and climbs .8 miles to the summit. The first portion of the hiking trails is paved but quickly becomes steep and uneven. Wear appropriate footwear and leave the flip-flops at the hotel. Allow two hours to complete the roundtrip hike, and bring plenty of water, as the trek is hot and dry. The parking lot is small, and you may want to make the three-mile walk from Waikiki Beach instead of driving.
8) Ala Moana Beach Park
From Waikiki Beach, head north along the coastline and over the Ala Wai Canal to Ala Moana Beach Park, a favorite beach with the locals. With plenty of white sand beach to stretch out and a wide grass area to play in, Ala Moana is one of the places to visit on Oahu that's great for families.
Facilities here include:
Picnic tables

Tennis courts

Concession stands

Walking and bike path

Restrooms

Volleyball courts

Playground
9) Stunning Beaches In Oahu That Are Not Too Touristy
Waikiki Beach is often crowded, but it's still one of the best places to visit on Oahu, and with good reason. It's a beautiful white sand beach with plenty of activities, restaurants, and bars within walking distance. But when you are ready to spend some time off the beaten path, there are a couple of beaches on the island's northern side that are worth visiting.
Lanikai Beach Or Turtle Beach
Lanikai is where you can find Hawaiian green sea turtles sunning themselves in the afternoon. This beach is made of hard lava rock, not white sand, so this isn't a spot to lay out. But it's a great place to explore the tide pools and watch for sea turtles.
Sunset Beach
The popularity of this beach is seasonal. In the winter months, this is a hot spot for surfers, competitions, and people who like to watch surfing. Outside of the heavy surfing months of October through March, this beach is off the beaten path. Spend the day relaxing, sunning, and swimming. At night, this is one of the best places to watch the sunset on Oahu.
Start Planning Your Oahu Hawaii Activities Today
The staff at Aloha Circle Island Tours wants you to enjoy your stay in Oahu, and we look forward to meeting you. Let us help you create the magical tropical vacation of your dreams.
Give us a call or hit that "Book Now" button today to start building your Oahu itinerary!
---