Find The Best Beaches With A Local Guide
On your own, you could rent a car to spend a day looking for the best Oahu beaches and spend more time looking for a place to park. With a local Hawaiian guide leading the way, who knows the lay of the land, you can spend more time getting your feet in the sand. That's why the best way to explore Oahu beaches is with the help of a local Hawaiian guide.
A tour we think you'll love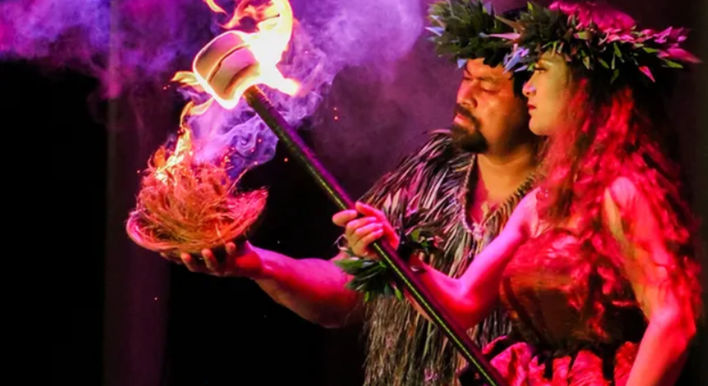 Ka Moana Luau
From $104
View tour
Let the locals with Aloha Circle Island Tours show you the best beaches and more. They'll share a few good stories as they show you stunning scenery, like:
Eternity Beach

Sandy Beach

Makapu'u Point

Waimanalo – pass by

Haleiwa Beach
You'll get your toes in the sand, have a chance to snorkel, drink Hawaiian coffee, and more. The best part is that you don't have to drive, get lost, or search for a parking place!
For more information and to book your tour to the best beaches and more, click the book now button or call today!
North Shore – Oahu's Famous Beaches
What is so special about Oahu's North Shore Beaches? How about stunning white sand, miles of open coastline, and the famous Banzai Pipeline, where professionals surf the big waves? Even for non-surfers, the pipeline is a great place to spend an afternoon. The North Shore is home to some of the most picturesque beaches on Oahu.
1) Turtle Bay
Think of the island of Oahu like a giant clock, with the Turtle Bay Resort at noon. This is the only resort on the North Shore. The popular beach at the resort might look private, but it's open to the public, and you don't need to be a hotel guest.
2) Waiʻalae Beach Park
Working counterclockwise along the white sand and sea cliffs that form the beaches on Oahu, your next stop is Waiʻalae Beach. The rocky bottom makes swimming here difficult, but when the tide goes out, it exposes tide pools with tiny fish and other marine life.
3) Sunset Beach
As one of the most famous beaches on the North Shore, Sunset Beach is more than another pretty picture. In the winter, the huge waves here are a paradise for experienced surfers and championship competitions. The waves die down in the summer, and this is a good spot for families.
4) Ehukai Beach
One mile south of Sunset Beach is Ehukai Beach, home to the notorious Banzai Pipeline. Professional surfers from around the world meet at this famous beach for adrenaline-inducing surf competitions in the winter months between November and February. Stop by to watch the fun but don't get into the water.
5) Pupukea Beach Park
Tucked into a hidden cove, Pupukea is an excellent spot for snorkeling and scuba diving in the summer months. Underwater lava caves and tubes are a sanctuary for marine life, including tropical fish and sea turtles. The access point for this secluded little gem is the adjacent Shark's Cove Beach, named only for the overhead shark-shaped view.
6) Shark's Cove
This is different from your typical lay-in-the-sun type of beach. Shark's Cove is a lava rock beach that's excellent for snorkeling and checking out the tide pools. The marine life enjoys a game of hide and seek throughout the underwater rock formations. Bring your water shoes to prevent cuts from walking across the lava.
7) Waimea Bay Beach
The beach at Waimea Bay is one of the best beaches in Oahu for families in the summer months. However, in the winter, it becomes a spectator gallery with onlookers watching professional surfers take on the big waves.
8) Kaena Point
On the northwest tip of Oahu, Kaena Point is a remote Oahu beach. Reaching this rugged point requires a hike, but you'll be rewarded with a visit to a Ka'ena Point Bird Sanctuary. A predator fence protects the birds, but you can still hike through the sanctuary as long as you stay on the trail.
9) Aweoweo Beach Park
One of the quietest beaches on Oahu, Aweoweo Beach Park is a tiny hidden gem on Oahu's North Shore. While tourists fight for parking elsewhere on the island, street parking here is plentiful. The park has picnic tables, bathrooms, and showers.
Best South Shore Beaches
If you want to venture outside the crowded Oahu beaches in Honolulu, you'll need to take a public bus or rent a car. You'll find it's worth the effort when you are rewarded with miles of soft sand with plenty of room to spread out and enjoy.
10) Lanikai Beach
Also called Turtle Beach, Lanikai Beach is one of Oahu's best family-friendly beaches. Hawaiian Green Sea Turtles enjoy sunning on this golden sandy beach. Visit in the afternoon for your best chance at seeing the turtles.
11) Waimanalo Beach
One of the best beaches in Oahu to get off the beaten path and hang out with the locals. Smaller waves make this an excellent body surfing beach. Waimanalo is a 45-minute drive from Waikiki by car, or take the number 23 bus.
12) Makapu'u Beach Park
One of Oahu's secluded beaches, Makapu'u, is tucked into a cove adjacent to Sea Life Park. The red-capped Makapuu Lighthouse stands guard on the sea cliff overlooking the beach park. You'll find boogie boarders and body surfers enjoying the waves here.
13) Hanauma Bay
Hanauma is one of the best Oahu beaches for snorkeling. Hanauma Bay is a protected marine sanctuary that allows a limited number of daily visitors. Purchase tickets online in advance or try your luck at winning a same-day pass.
14) Waikiki Beach
Ever since the romantic Royal Hawaiian Hotel opened in 1927, Waikiki Beach has been one of the most popular beaches for visitors to Oahu. Waikiki Beach is the place to go for soft sand, warm water, and plenty of traveler amenities. With a visit to this popular Oahu Beach, you can enjoy a mai tai, book a guided tour, rent boogie boards, and have lunch all within a short walk.
15) Ala Moana Beach Park
When you can't find room to spread out your towel on Waikiki Beach, cross the bridge over the Ala Wai Canal and spend the day at Ala Moana Beach Park. You'll find a paved path next to this golden sandy beach. Sea turtles sometimes make an appearance, and the calm water makes this one of the best Oahu beaches for paddle boarding.
Discover Hawaii's Best Beaches
We think you'll find Oahu beaches are that postcard-perfect tropical paradise you expect in a Hawaiian vacation. With warm golden sand, swaying palm trees, and crystal clear water, the only thing to add to Hawaii's best beaches is you.
Book your next adventures and explore the postcard-perfect beaches in this tropical paradise!
---